May 22nd: knappuccino's XII - happy anniversary
Saturday, May 22nd was the big "Songs We Wish We Wrote" show in honor of our one-year anniversary. It ROCKED!
The crowd, as always, was wonderful, the music was stellar, yummy food as always, and plenty of coffee. I am so blessed to have such a great venue with such incredibly talented people involved. The most heartfelt thanks to everyone, performers and patrons alike, for your support, interest and love. Here's to another great year!
Instead of the usual mostly-originals-in-45-minute-chunks format, this night had only 20-minute slots of cover tunes played by Knappuccino's favorites.
Pat Nakajima kicked off the evening's festivities and rocked the house entirely. I am honored to add him to the roster of Sproing Award recipients-- it wouldn't be a Knappuccino's if we ended the night with no broken strings, ya know. Matt "Pierce Chesworth III" Hearn sang some haunting tunes with the assistance of his rad Takamine. Next up, Nick D'Argenio played us some well-known and lesser-known songs, and brought the house down with Ben Folds' The Luckiest with Steve Weatherman donating his mad piano skillz. Speaking of Steve Weatherman, he was up next and blew the doors off the place with his magnificently huge voice and thoughtful interpretations. Brian Turner, the man who started it all, was up next and played mondo urbano set featuring the song that started it all: Phish's Waste. Closing out the night was our neighborhood favorite, Matt Casarino who pulled us in with whimsical and heartbreaking songs, with a little touches from Brian Elam and yours truly.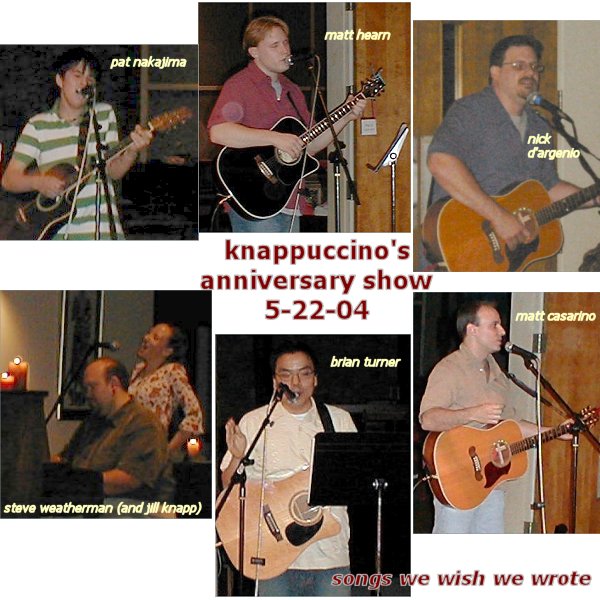 ---
| home | about | past shows | links |